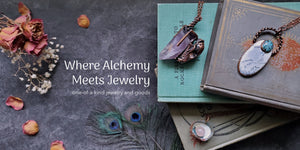 Where Alchemy Meets Jewelry
We create one-of-a-kind pieces from jewelry to home decor with electroforming. The art of growing copper onto objects through conductivity. 
Testimonials
Over the course of 3 years I have been an adoring customer with Pandski Labs. Beautiful pieces meticulously forged. I wear one piece pretty much everyday, regardless of it "matches" my outfit, it matches me. The willingness to educate and understand the product of its uses, is honestly so refreshing. Open communication and great feedback of any products are some of the many great perks I have personally experienced with Pandski Labs. These creations are some of my favorite gifts to give to family/friends. Highly recommend a purchase with Pandski Labs.

Ashely
I own multiple pieces from Pandski Labs. I love the detail and uniqueness of each one. When my son got married I created my outfit around my necklace from Pandski Labs for the big day.

Courtney
Pandski Labs is an exceptional shop with exceptional makers. Each item is not only one-of-a-kind, but also thoughtfully and delicately made. Whether you need earrings, necklaces, or custom pieces, they have you covered above and beyond your expectations. I will forever cherish my Pandski Labs collection because I know each piece was designed specifically with me and my style in mind.

Angela
Subscribe to our newsletter
Promotions, new products and sales. Directly to your inbox.